The Original Multi-cam has been re-engineered to be faster than ever
with speed increases up to 5000% recorded. Now Excalibur Multi-cam
can automatically create your project. Tally colors can be changed
at any time. Auto-tally refresh limits can be specified. And Multi-cam
can be re-run as many times as desired.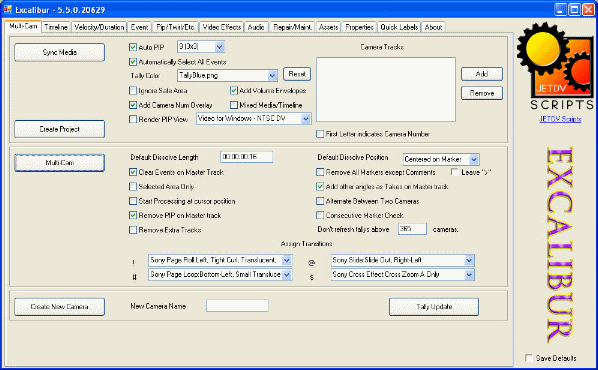 Powerful Multi-Cam tools provide:
Camera switches now faster than ever
Multi-cam processing recorded up to 5000% faster
Live Camera Switching (Vegas 6.0b or newer only)
Multi-cam can be run as many times as desired
Automatically build the complete multi-cam project from selected clips
Presets for up to 25 cameras
Powerful Tally system (automatic or manual updating)
Tally color can be changed at any time
User-Defined tally's allowed
Tallys crossfade illustrating specified transition length
Can specify a different dissolve length for any camera change
Can specify a dissolve happens before, after, or centered on the marker
Can specify any transition for any particular dissolve
Can process only the selected area
Individual cameras provided for cuts, dissolves, and transitions
Can create user-defined camera switches - including "Sync" switches
Cameras can be placed on the toolbar, assigned to keypresses, and used with devices such as the Contour Shuttle Pro
Improved support for HD footage on a mismatched timeline
Assistance with Syncing
Volume Envelopes automatically added to all audio tracks
Automatic PIP'd view with camera number overlay
Alternate angles added as Takes for easy adjustments
Camera markers do not affect DVD Chapter markers
Camera changes across multiple events allowed